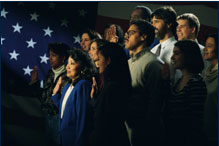 Non-Immigrant Visas
Non-immigration visas are designed for foreign-born people who wish to visit the United States for a limited amount of time. The types of people who usually obtain non-immigrant visas include students, tourists, and people who come to the U.S. for a cultural exchange, or for business or medical purposes. These visas specify the specific amount of time a person can legally stay in the country, and what types of activities the person can participate in during their stay.
Immigrant Visas
Immigrant visas are designed for people who wish to permanently reside and work in the United States. These visas are also known as green cards. Immigrant visas offer permanent residence for children, spouses, parents, or siblings
of United States citizens, as well as for spouses and unmarried children of permanent residents. Immigrant visas are
also obtained by foreign employees, and people who possess an exceptional or extraordinary ability in his/her field.
Furthermore, green cards are also available for nurses and medical physicians who come to work in the U.S. under
specific circumstances.
Deportation Defense
Any individual who is not a citizen or a permanent resident of the United States can be deported if they overstay their visit, or get caught engaging in criminal activity. However, not all crimes warrant deportation. If you have been threatened with deportation, it is important to contact an experienced New York immigration attorney. At Peña & Kahn, PLLC, our attorneys can evaluate your case, present you with viable options, and protect your eligibility to stay in the United States.
Asylum/Refugee
If you are fleeing your country to avoid persecution, our law firm can help you seek refugee or political asylum in the United States. The commonality between political asylum and refugee is that the individual experienced, or will experience if they return, a reasonable fear of persecution. Persecution can take many forms, including race, religion, gender, political opinion, nationality and social associations.
An asylee is considered any individual who faced persecution in his/her home country, but who is physically present in the United States. A refugee is considered a person who is physically outside of the U.S., but cannot return to their home out of fear of persecution.
Citizenship
You are considered a citizen of the United States if:
You were born in the U.S.
You were born outside of the U.S. but one or both of your parents are U.S. citizens
If you are not a citizen, you may file for citizenship if you have had a green card for at least five years. If you obtained your green card through marriage, you can file for citizenship after three years. If you are not a U.S. citizen, but would like to obtain citizenship, our attorneys can assist you with the naturalization process. We can help you file important documents, and make sure that all deadlines and eligibility requirements are met.
Contact Our New York Immigration Attorneys
At Peña & Kahn, we offer legal services for a variety of immigration-related issues. Our attorneys have helped hundreds of individuals successfully obtain the immigration documentation they need. At Peña & Kahn, we will personally evaluate your case and work with you one-on-one to ensure that all mandatory paperwork and documentation is filed with the appropriate agency in a timely matter.

If you need experienced and professional legal representation in New York, contact our immigration attorneys at Peña & Kahn today for your free case evaluation at (888) 736-2298 — that's (888) PEÑA AYUDA.